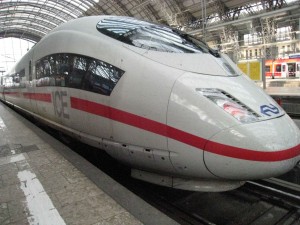 Saying goodbye to Frankfurt we caught the ICE train to Amsterdam in Holland/Netherlands;  very comfortable train travel, changeover in a place called Hertogenbosch. The announcement came over in English with instructions, easy to follow. Once in Holland the change in landscape was very obvious, from the undulating hills and snow-capped mountains of Bavaria to the flat green  rolling pastures of Holland.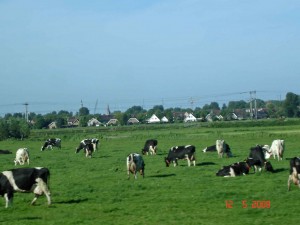 There was a slight hiccup when the train rolled into Amsterdam Amstal, a family standing near the doors accidentally threw my sister suitcase on to the platform with their luggage in the hurry to get off. Thinking it was our stop too we got off to retrieve the case, then realized this couldn't be the main station, so hurriedly jumped back on with the help of a kind person watching our little fiasco.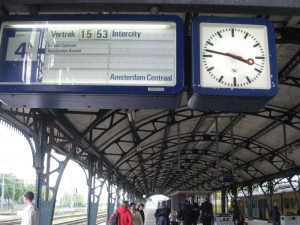 Arriving in Amsterdam Central Merryl's daughter Suzie met us with hugs and a  bright cheery smile. Waiting outside the station, partner Ronnie greeted us warmly before heading out to start our sightseeing at Egmond, one of the most popular beach areas on the North Sea Coast.
Egmond aan Zee is in the Dutch province of North Holland,  part of the municipality of Bergen, about 9km west of Alkmaar.  Alkmaar is well-known for its traditional cheese market; on our agenda for another day. 
The Beach
At the beach I stared in dismay at the intense unfriendly dark color of the North sea, the water almost black, running surf dark grey, so different to the alluring blues and white rolling surf of our  Australian beaches. The beach, cold, bleak, the landscape windswept, totally uninviting.
Egmond aan Zee has a wide, white sandy beach, in this weather popular for walking and exercising the dog, not many people out today. On a hill above the beach sits a  lighthouse, built in 1834 and named after a famous Dutch sea-captain Jan van Speijk.
In the summertime – Zeester Pavilion
On the beach front below the Lighthouse sits Zeester Pavilion, a popular and attractive restaurant for beach goers in the warmer months. As you can see above, the  beach at Egmond is a very popular place in summer and no doubt looks much  more appealing on a sunny day than it did this day.   The Dutch flock here in hundreds to enjoy the beach as soon as there is  sunshine.  Below – a typical beach house at Egmond.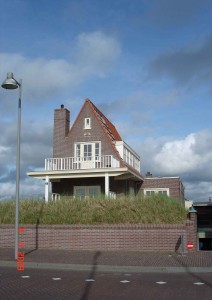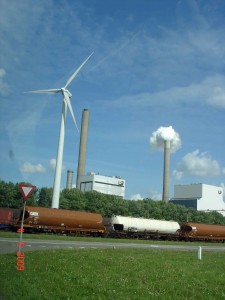 Environmental mix
Leaving the beach, now on route to visit the tulip fields at nearby Heiloo we pass a freight train, notice the smoke stacks at nearby factories, one belching out thick white plumes into the atmosphere. In the mix a lonely wind turbine.
Next the tulip fields at Heiloo, only 5.5km or about 8 min from the beach at Egmond  – so worth a visit in tulip season…….
---
Related Posts: