More about my adventure travel in Africa
The next camp was at Fothergill Island on Lake Kariba. The story of Lake Kariba is a fascinating one and a very special story. During 1958-59 when the building of the Kariba Dam across the Zambezi River was completed, many animals were left stranded on rapidly shrinking islands and doomed to drown. Operation Noah came into existence, led by Rupert Fothergill and 60 wildlife wardens from Northern Rhodesia (Zambia) and Southern Rhodesia (Zimbabwe). Thanks to these dedicated, volunteer game wardens and further help from the outside world when the plight of these animals became known, some 4,845 wild animals rescued and relocated as the dam waters rose. Today the banks, parks, the islands & shoreline of Lake Kariba, are well stocked animal habitats thanks to these efforts. A monument, erected in their honor sits at the lake viewing point in Kariba Heights. In Matusadona National Park in Zimbabwe, Fothergill Island is named in honor of the project leader, Rupert Fothergill.
I loved the accommodation on the island which consisted of large thatched roof lodges. You could look at the stars or feel the sunshine on your skin as you showered, depending on the time of day, as the en-suites were roofless. This was really quite a nice effect. The roof was an unusual shape; the walls didn't meet the roof, no glass in the windows, so the rooms were very cool and airy. The large beds enclosed with a mosquito net.
The complex enclosed with a very high safety fence. The accommodation  in the middle of the island so the animals roamed free outside the complex.
Going out very early one morning we saw our only leopards of the trip. It was exciting to see the three leopards as they crossed the track some distance in front of us. They were difficult to see at first in the early morning light. Roaming nearby, there were individual elephants, small groups of zebra and deer. One evening at sunset, silhouetted against the skyline, we saw a large herd of elephants with young in tow moving slowly across the plain.
On a day excursion a guide took us by motor boat down the Zambezi River. We watched fascinated by the monkeys leaping along the rocks and swinging from tree to tree on the rocky cliff face of the river banks. The lower banks were also home to many crocodiles. We sat very warily when the guide idled the boat into the bank for morning tea, and were unwilling to step out for fear of a crocodile lurking nearby. Even though it is a damned, the Zambezi is still a mighty river, deep and fast flowing as it travels through high rocky gorges on either side.
Below – The Magnificent Kariba Dam Wall Across the Zambezi River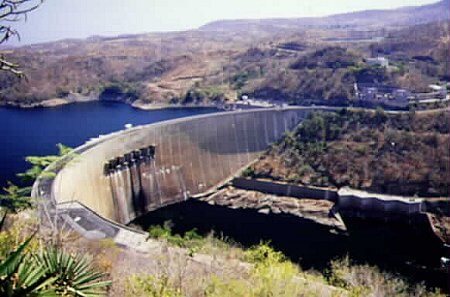 ---
Related Posts: