Highlight in Beijing – A walk on the Great Wall of China
The highlight in Beijing for me however, was to  walk the Great Wall of China. It has always been a childhood dream to see the Great Wall of China, but to walk on it; well that was the thrill of a lifetime. The bus trip from Beijing took about two hours to reach the Mutianyu Section of the Great Wall. Our first glimpse was just as I had remembered it from a picture book at school so many years ago. We ran the gambit of the hawkers at the bottom of the wall and walked up the steep incline to the cable car which took us up to gate house number sixteen. From here we did the walk to number 21 at the top of the section; not many numbers in between but a lot of walking between gatehouses.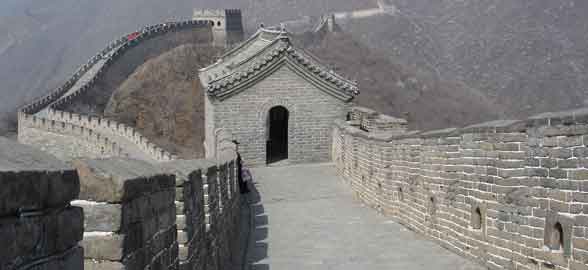 The Great Wall stretches some 5660 kilometers across China and was built to keep out invading armies. It has stood for some 700 years and from the Mutianyu Section signal fires would be sent up from the gatehouses to warn the Emperor in Beijing if the City was under threat.
The wild cherry blossoms were just starting to bloom in pale pink splashes across the dry winter hills, along-side the Great Wall. We had plenty of time to enjoy and walk  the Great Wall of China, and soak up the experience. At one gatehouse we were able to climb up a tiny iron ladder into the turret and overlook the landscape. Picture the Emperor driving along the wall in his carriage;  and wonder about the workman who died during the building of this amazing wall.
The last set of steps to our destination, were almost perpendicular, but urged on by others who had reached it ahead, we clambered to the top. Very pleased with our efforts we rested awhile and gazed back to see just how far we had come, and marveled  at this amazing serpentine wall as it snaked its way across mountain tops; an unbelievable sight. I had such a feeling of exhilaration after walking the Great Wall of China, and even now I find it hard to believe that I have actually "been there and done that". Awesome!!
Photo's: More Great Wall of China Pic's
---
Related Posts: