Tulip fields Heiloo
Our next stop as Ronnie had promised, by stark contrast with the bleakness of the beach at Egmond earlier today, a visit to the tulip fields in the nearby town of  Heiloo.  Absolutely breathtaking! Row upon row of brilliant colours and varieties of tulips, quite spectacular!!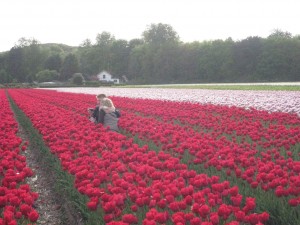 Fields of red and pink tulips
Ronnie and Suzie taking selfies in the fields of red and pink tulips, Merryl and I standing in the middle of the tulip fields and gazing in awe and delight at the panorama of color stretching before us. I was very reluctant to leave when the time came, a once in a lifetime experience, at one with nature,  standing in the midst of such an extravaganza of color and flowers in the tulip fields of Holland.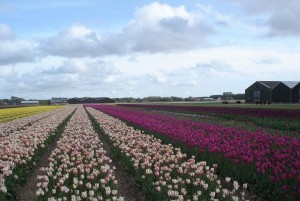 Ronnie and Suzie have a flat near Heiloo where we will be staying for the length of our visit in Holland. Our hosts cooked a traditional Dutch tea; eggs and bacon with pancakes followed by pancakes and maple syrup; wine of course after a long day. What a wonderful introduction to our holiday in Holland/Netherlands.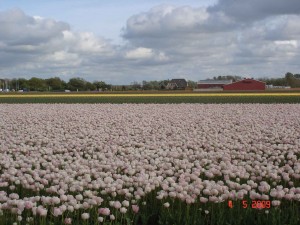 About Heiloo
Heiloo is a handy suburb to stay in, only a few minutes to the Heiloo railway station. From here you can travel to Alkmaar, Hoorn, Uitgeest, Zaandam, Amsterdam, Utrecht, 's-Herogenbosch, Eindhoven, the Haigh, Weert, Roermond, Maastricht and Heerlen. For the Zannse Schans, a popular tourist destination, you travel to Uitgeest and change onto a train to Koog-Zaandijk.
From Heiloo to Lisse by car is about 42km or 50 minutes via A9.
From Amsterdam Centraal by car about 33 mins (35.4 km) via A4 
Can hardly wait for tomorrow to visit Keukenhof, considered the most beautiful spring garden in the world. 
---
Related Posts: