The Magic of Magnetic Island
During a recent visit to Townsville with my cousin, we decided to take the ferry (Sunferries) across to Magnetic Island (or Maggie Island as it is known to the locals), an enjoyable 20 minute trip across the water.  I hadn't been to Magnetic Island for a number of years, so I had forgotten just how beautiful and natural it has remained. Maggie Island weekend stays and  holidays are very popular with locals and visitors alike.
We took the "hop-on-hop off as you please" bus excursion when we arrived and went directly to Horseshoe Bay. The Bay here is really beautiful, with many boats and yachts anchored in its calm waters. Horseshoe Bay has a huge safety net for swimming.  The beach,  golden sand; the water so inviting, sparkling in the sunshine like a myriad of diamonds in the midday sun.
Cuddle a Koala and pat a wallaby
Nearby, is a resort where you have an opportunity to cuddle a Koala
. I never tire of these cute little marsupial bears, with their shiny black noses. As we went past in the bus, there were a group of tourists admiring a gentle eyed wallaby, which had come out to feed on the green pick near the edge of the road.
There is an abundance of native animals
and bird wildlife on Magnetic Island. Half the Island  is protected as  Magnetic Island National Park. Incorporated in the National Park is a network of walking tracks which allows you to explore and appreciate the natural beauty of Magnetic Island.
For the more adventurous on Magnetic Island
There are many activities available on Magnetic Island for the more adventurous and energetic such as scuba diving, snorkeling, jet ski tours,water sports, swimming, fishing and horse riding. Magnetic Island boasts some 20 bays and beaches, and they all have their own individual appeal. Horseshoe Bay is the largest bay on the island and almost every watercraft is available for hire here.  Magnetic Island accommodation is varied and designed to suit all budgets with hostels for back packers as well as luxury tropical accommodation.
Beautiful Alma Bay on Magnetic Island
On the bus again and this time down to Alma Bay, this is a particular pretty bay,  a very popular swimming area and delightful for young children.  Here you can paddle on the waters edge, swim in the beautiful clear water; watch a group of scuba divers taking instruction, sunbathe on the beach, marvel at the patterns on the sand where the crabs have been busy, or follow the journey of a hermit crab along the beach.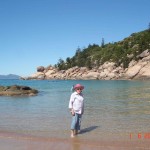 Large boulders are  interspersed with dark green Hoop pines along the rocky coves, which contrast markedly against the brilliant turquoise blue of the water and the white sandy beaches on Magnetic Island.
Freshly grilled Barramundi
Strolling back to Arcadia Resort  we lunched on freshly grilled Barramundi
delicious! As we ate, we were fascinated by the amount of pretty butterflies fluttering amongst the flowering shrubbery. Now and  then the  brilliant iridescent blue flash  of a Ulysses butterfly
.
Bremner Point

After lunch we decided to walk to Bremner Point (a 10 minute stroll),  formally the old ferry terminal and now where the car ferry FantaSea docks. You can bring your own car over on the FantaSea, to drive around Magnetic Island.  Along this walk there are huge monoliths, including two very large boulders which join together to form an arch, plus  wonderful views across the water.  We spotted a rock wallaby on a high ledge above us, but as we moved closer he leapt nimbly across the rocks and disappeared.
Nearby we found a seat on the rocks by the water,  sat and enjoyed the view from Geoffrey Bay across to Townsville. We watched fascinated, as a sea eagle, on its third attempt, swooped down and plucked a fish from the waters of the bay.
Two vehicles appeared. One a four seater, a 'topless' fun car for hire on the island; the second vehicle a tour guide in a stretched jeep who provides small group tours around Magnetic Island. A suitable grass was placed near the rocks for the wallabies. Gradually quite a number of small wallabies came out from amongst the rocks and fed on the fresh grass. One had a little joey in its pouch. The group of tourists were delighted with their close encounter with the local wildlife and took home many treasured photos
.
There is a large sign that warns about feeding the wallabies on the wrong type of food, which inevitably endangers their health and survival.
The tide had begun to recede from the bay, leaving in its wake pools and ridges of silver on the sand in the bright sunlight.
Strolling back to Arcadia Resort the next bus came along so we rode back to Nelly Bay with  just enough  time for an ice cream! The ferry arrived to take us back to Townsville after a wonderful relaxing day in the sunshine, soaking up the beauty of Magnetic Island. Absolute magic.

How to get there?  Sunferries to Magnetic Island
Ferry services to Magnetic Island depart from the Breakwater Terminal, Townsville on Sir Leslie Thiess Drive at regular intervals.
Adult   Return Fare     $30         Concession           $14.50
Sunbus on Magnetic Island – meets every Ferry

Fares:  Adults    One day All Day Pass  $6.80         Concession  $3.40
FantaSea Car Ferry to Magnetic Island 
For Motor vehicles 5m or under weighing 2.5 tonne or less. (eg sedan,station wagon,4wd,ute, dcab).
Return $169  One Way $84.50
FantaSea Cruising, Townsville terminal is located at Ross St, South Townsville.
A Magnetic Island Guide Book
In Townsville visit the Tourist Information center. Ask for a  free copy of the current Magnetic Island Guide which provides all the information you need to know about Magnetic Island. It includes Ferry and Bus Time Tables, details and maps of the island suburbs, walking tracks, car rentals, where to go,  where to stay, and how to get there.
Enjoy snorkeling and diving Magnetic Island North Queensland
If your traveling to Australia
and  North Queensland
  for holidays;  if you enjoy  diving and snorkeling
these travel books will be a  helpful source of reference in preparation for your journey.
---
Related Posts: