Scrapbooking Sketches – the way to GO!
Next to my love of travel, when I am home I just love to scrapbook. It is a real passion, or is it an obsession? I'm not sure which sometimes! However, I guess it fulfills my creative needs, as scrapbooking allows one to be artistic and   decorative, as one develops various scrapbook designs to use.
The challenge of course, is to make each page  a unique design and highlight your photographs.
I am a great one to procrastinate and this e-Book of  "500 Scrapbooking Sketches" from Jennifer Gormly has so many great scrapbook designs to prevent this time wasting procrastination. With the use of the wonderful scrapbook sketches in this book, which are so clearly designed and thought out, it is easy to forge ahead quickly and get pages completed.
No Time Wasting with the use of these Scrapbook Designs
You will be able to look at the scrapbooking sketches and visualize your photographs within the framework of the scrapbook designs. The sketches also stimulate other ideas and additions to the pages, so ultimately the pages are always uniquely your own.
If you find one particular design that suits your theme, you can repeat it with a difference each time, just by changing the background paper or decorative elements.
Scrapbooking inspiration
We all need scrapbooking inspiration at some time or other!
This book of 500 Scrapbooking Sketches is an invaluable tool to any scrapper, from beginners to experienced scrappers alike. It provides a whole new stimulus in scrapbook designs.
It has given me a  new burst of energy and enthusiasm to attack my next big project. With the ideas inspired from the scrapbooking sketches, I will make a start on scrapbooking my photographs and items of my trip to India. Now I can't wait to get into it!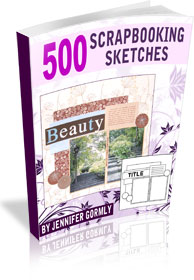 This is such a great offer!
The book "500 Scrapbooking Sketches" is selling for only $28.77 USD, plus three free bonuses – "Creative Card Making Ideas", "60 Xmas quotes" and "Making the most of your scrapbooking".
You just can't go wrong with this DEAL especially with Christmas just around the corner.
Creative Card Making Ideas and Xmas Quotes
Personal Christmas cards are so warmly received when you have made them yourself. The scrapbooking quotes for Christmas will be invaluable when cardmaking, and the scrapbooking sketches can be adapted for Xmas cards too.
You will have so many  new and interesting scrapbook designs from these sketches  for your Christmas photos as well.
Wonderful Christmas Gift!
Think how happy you would make someone dear to you, who loves scrapbooking, with this wonderful book of "500 Scrapbooking Sketches" to work with in the coming year?
A Fabulous Gift idea!