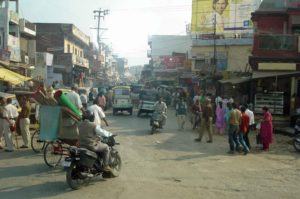 City of Varanasi India
India, such a different way of life. During our month's trip through India, I never ceased to be excited to see so many sights and sounds in the city streets.
This fellow balancing all the boxes as he pedals along to deliver the goods. Below a lighter load with a mass of balloons. Traffic in the main street, sights and sounds of motor bikes, tuk tuks, street sellers,the odd cow or calf to maneuver around.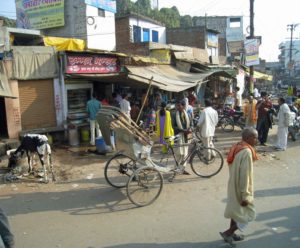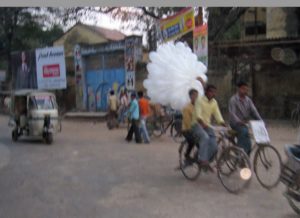 At night the most popular mode of travel is by rickshaw.Our group set off in a convoy of eight rickshaws through the streets of Varanasi. It gave us a chance to see Varanasi by night and we were more than a bit excited to be on our way to see the Aarti Ritual at the ghats.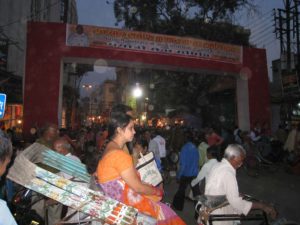 Everyone seemed to be going in the same direction and suddenly we came to an abrupt halt, caught in a traffic jam of people on foot, on motorbikes, rickshaws and even a wheelchair; bit hard to say what the road rules are? 'Go with the flow' and patience seems the order of the day?
Below, this car from another era, one of the few to be seen on the streets of  Varanasi.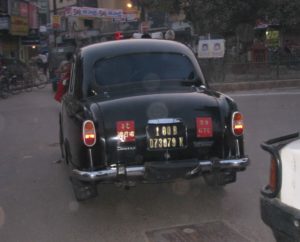 A bit bemused by this prominent sign 'Palavie International Hotel' as couldn't see anything but an old, and very uninteresting building through the arch. My curiosity got the better and asked our guide.In the near vicinity, there is in fact an eighteenth century palace belonging to one of the very old aristocratic families of Bihar (old name for Varanasi), the Hathwa Raj. The prestigious title "Maharajah of Bahadur" and "Sahi"bestowed on the family during the reign of Akbah, Mughal Emperor of Delhi (1555-1605).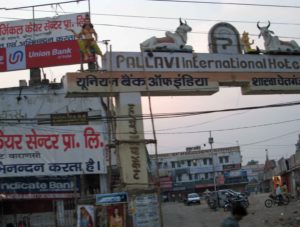 The Palace converted to a luxury hotel in 1984, and re-named "Heritage"Pallavie International. A fascinating hotel that has maintained the ambiance of the rich Indian culture and architecture of the Rajas and Maharajas from the 18th century. I'm sure I would have enjoyed a night here, however we did get to sleep in another palace and a hunting lodge later in our trip, with much of the same ambiance as the Pallavie International.
Finally making our way through the throng of traffic, it was only a few minutes more and we arrived at the main ghat. Approaching the steps there were street sellers on every side offering bright yellow and orange flower garlands and candles.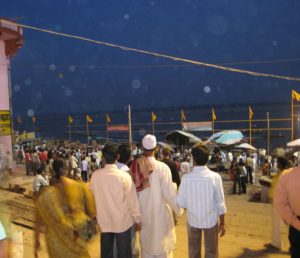 Below the dark waters of the Ganges beckoned. Row boats bobbed up and down on the edge of the waters waiting  to take tourists out  to view the  ritual spectacle on the shores of the holy Ganges river. I was filled with excitement and anticipation as we made our way down to the water's edge.
---
Related Posts: