This week I am enjoying an amazing view of the coastline and Broadwater  at Southport on the Gold Coast. The view changes everyday with the morning light, sunlight and evening shadows. It is a constant source of delight from my balcony 44 floors up at the Meriton.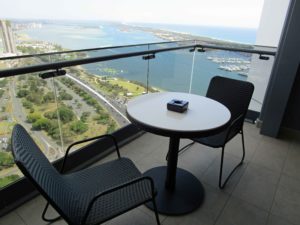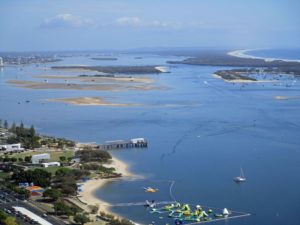 The traffic flow on the Broadwater is continuous throughout the day with jet skis zipping through the clear azure water leaving distinct trails of  white flurry behind. Small speed boats and fishing crafts cross in their wake. Sailing boats glide down the river stately and serine;the local ferries ply the beautiful clear waters of the Broadwater at Southport on their daily trips.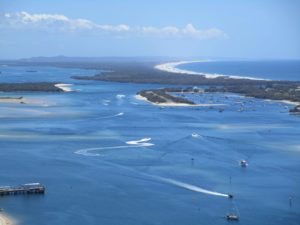 From the balcony I can see the roll and swell of the Coral Sea coastline,the foaming white waves roll in and crash along white, pristine sandy beaches.
The Gold Coast Broadwater at Southport is part of the Nerang river catchment and covers an area of 490 square kilometres and is 62 kilometers in length. The Nerang river reaches its mouth in the Gold Coast Broadwater at Southport and empties into the Coral Sea.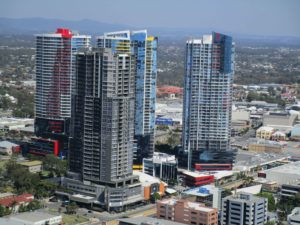 Southport is just north of Surfers Paradise. The business, shopping and residential hub of Southport has fabulous views of the Broadwater and Southport Spit.
For a shopping spree look no further than Australia Fair Shopping Centre alongside the Broadwater. It has over 200 specialty shops, movie theaters, plus supermarkets.
Places to visit:
Aqua Splash – water and amusement.
Sea World Zoo and Aquarium.
The Rockpools at Broadwater Parkland, seaside tracks.
Southport Beach
Eating out – explore the main precinct at Southport where  there are plenty of multicultural restaurants to choose from offering a delicious variety of food.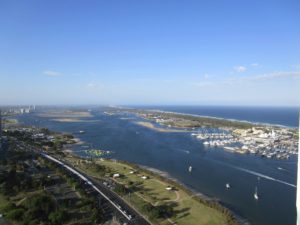 Looking across the river from the Broadwater is the Southport Spit area, home to Sea World theme park and the Sheraton Mirage Resort. At the end of the Spit is the Gold Coast pier a popular spot for fishermen.
If I were to change my usual living abode, Southport would be it, only of course if I could have this fabulous view of the coastline and the Broadwater.
---
Related Posts: