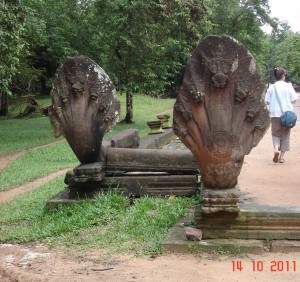 Naga Balustrade
Once a long Naga balustrade highlighted the walk to the temple grounds of  the blue ruin of Beng Mealea. These two beautifully crafted naga heads remain intact at the walkway entrance.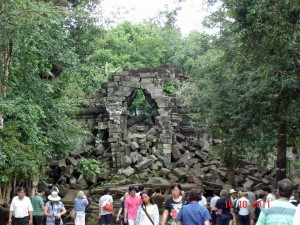 Wow!  At first glance it look chaotic, like a heap of rubble, sandstone blocks, collapsed arches and jungle vegetation; you could be forgiven for asking "what are we doing here?"  First impressions can be so deceiving. Amongst the rubble at the front entrance lie large blocks from the naga balustrade with another two, almost complete and undamaged naga heads.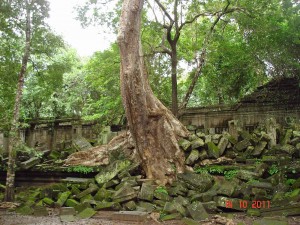 Blue sandstone ruin
Beng Mealea has the 'wow' factor and is such an adventure.The blue sandstone ruin of Beng Mealea is like an Indiana Jones jungle experience (without Harrison Ford, unfortunately). It is such an atmospheric ruin, blue sandstone walls over-grown with vegetation and suffering destruction from the roots of the silk cotton trees and strangler figs.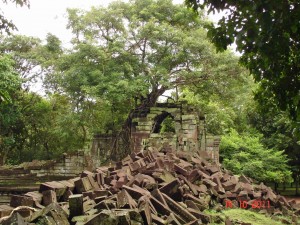 Much of the rubble is covered in a startling green moss and small leafy plants that thrive so well in the jungle climate and give such a contrast against the ageing blue sandstone ruin. The pervading atmosphere stirs one's soul to the spirit of adventure and romance in Beng Mealea, probably even more so than the mystical jungle temple of Ta Prom.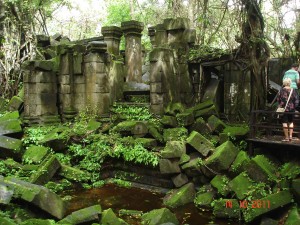 The name, Beng Mealea  translates as  'Lotus Pond', it lies 40km due east of Angkor. There are no written clues to the builder of this temple, no stele or inscriptions have been found. The architecture of  Beng Mealea is about mid 12th century, similar to  other temples built in the Angkor Wat period. Some of the early French scholars considered Beng Mealea as prototype for Angkor Wat, others say it is built later.
Beng Mealea, obviously built by  a person of some importance as it sits on the ancient royal highway to Preah Khan of Kompong Svay. It is considered more than likely built by King Suryavarman II, and is one of the larger temples of the Khmer empire.
The temple is built from blue sandstone from nearby quarries. The ruin of Beng Mealea is similar in architecture to Angkor Wat but all at ground level with no temple mountains. The temple lies at the centre of the city; galleries form the outer enclosure of the temple and measure 181 m by 152 m. The temple is  surrounded by a moat 1025 m by 875 large and 45 m wide.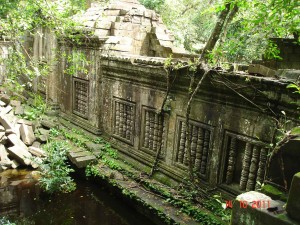 Carvings – Hindu Mythology
At the north-east and northwest corners of the enclosures are two libraries or shrines. Decorations and carvings are to be found on walls and pilasters of the temple, as well as apsaras. The carvings show legends of Vishnu, Shiva and Buddha indicating a  religious pattern similar to those  found on other temple ruins in Angkor.
Boardwalk and steps
Built across collapsed areas of the 'blue ruin' of Beng Mealea is a strategically place boardwalk with steps to enable tourist to see as much as possible of this romantic ruin with safety. It gives a bird's-eye view of areas you wouldn't otherwise see. The steps are minimal and not steep at all. Very little vegetation has been cleared from the 'blue ruin'. It is the real thing, a romantic temple ruin, struggling after 900 years of total neglect, still holding its own in the  jungle environment!
I believe you probably need a local guide with you to visit the blue ruin of Beng Mealea. On tour we had our own guide to take us through and point out the important areas of interest, the unsafe areas, and to fill us in on the myths and legends of the surviving carvings on  lintels and pediments.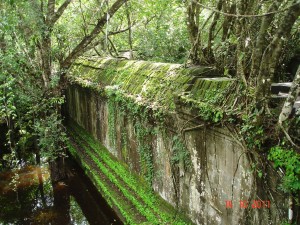 It is so amazing to walk among this ancient blue sandstone ruin. Quite tranquil and peaceful in places, the sunlight filtering through the jungle vegetation creating dappled shade and reflections; at the same an exciting experience exploring this ancient blue ruin against a jungle background, and wondering about the mysteries surrounding its history.   Beng Mealea, a temple not to be missed!!
Beng Mealea lies about 70 k outside Siem Reap and can be reached via tuk tuk or local transport. A recently built road to the temple complex of Koh Ker passes Beng Mealea making it more accessible to visitors.
Next a look at the local markets and city of Siem Reap…
---
Related Posts: