Next, a visit to the Gandhi Smriti  Museum (or Gandhi Remembrance) in Tess January Road,  New Delhi. It is the house where Gandhi spent the last 144 days of his life, and where Gandhi was assassinated.  Most people have heard of Gandhi or at least seen the movie, so if you are at all interested or curious to learn more about the life and death of this remarkable man, Mahatma Gandhi, this is an opportunity not to be missed whilst you are in New Delhi.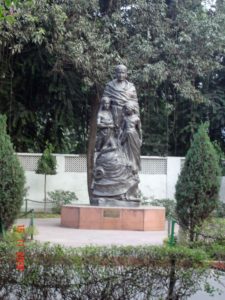 At the main entrance to the Gandhi Smriti Museum, is a larger than life statue of Mahatma Gandhi with a boy and a girl holding a dove in their hands, emerging out of the globe. The sculpture symbolizes Gandhi's universal concern for the poor and deprived of India. The base of the sculpture is inscribed "My Life is My Message".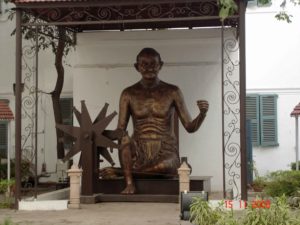 The Museum has preserved his personal effects, which were very few as he lived by his beliefs. There are many visual and easy to read commemorative's to perpetuate the memory of Mahatma Gandhi at the Museum. There are also educational aspects  about his beliefs, values and aspirations for a more equal and peaceful way of life for  all the people of his beloved India.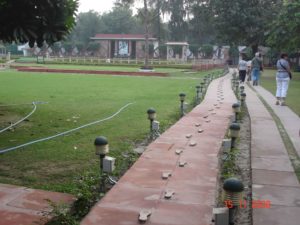 Follow the footsteps along the pathway where Gandhi walked every evening for prayers. The footprints bring you to the spot where he was assassinated. The spot is now marked with a memorial known as the Martyr's Column. Gandhi was assassinated on this spot on 30th January 1948.  I found this whole experience very moving, and am so glad it was on our agenda.  Allow at least one and half hours to look through Gandhi Smriti Museum.
Gandhi Smriti Museum opening times.
10:00 AM – 5:30 PM Everyday except Monday.
Entry is free.
Raj Ghat – Memorial
Located on the banks of the river Yumana on the ring road officially known as the Mahatma Gandhi Road in New Delhi, the Raj Ghat is a memorial to Mahatma Gandhi. A black marble monument marks the spot where the cremation of Mahatma Gandhi took place on 31 January 1948 after his assassination. The monument has been left open to the sky while an eternal flame burns perpetually at one end. A stone footpath flanked by lawns and gardens lead to the walled enclosure that houses the monument. All guests must remove their footwear before entering the Raj Ghat walls to pay their respects at the memorial. A trustworthy person looks after the shoes for a small fee.
Raj Ghat, Ring Road, New Delhi
No entry fee.
Visiting Hours – 10:00am – 5.00pm
---
Related Posts: