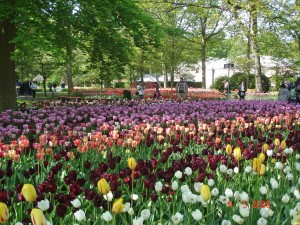 Amazing Flower Garden
A trip to Holland would not be complete without a visit to Keukenhof, considered the most beautiful flower garden in the world.   It also had the world's largest permanent display of tulips.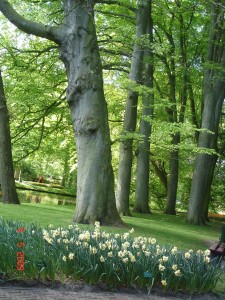 After arriving in Holland yesterday, the next day dawned fine and sunny as we set out for Keukenhof. The flower gardens are in the small town of Lisse in South Holland, south of Haarlem and southwest of Amsterdam. The park covers an area of 32 hectares (79 acres); approximately 7 million flower bulbs  planted annually in the gardens.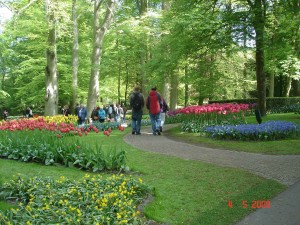 Spring in Lisse
The population of Lisse is around 22,4oo. In the spring it swells to enormous numbers when hundreds of thousands of local and foreign tourists visit  to view the fields of tulips around Lisse as well as  the beautiful spring flower garden of Keukenhof. A flower parade known as Bollenstreek is also held through the main streets of Lisse to welcome the Spring.
Spectacular Tulip Garden -Lisse
A large crowd lined up  waiting patiently to enter. A spectacular display awaits you once inside the gates. Keukenhof is  mainly a tulip garden but it has other flowering bulbs and shrubs, with a background of  very old trees alight with bright green spring foliage. The flower garden and trees complimented by a flowing stream and adorned by graceful white swans.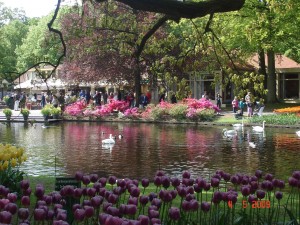 Amazing Tulip Flower varieties
The varieties and color of the tulip flower has to be seen to be believed, quite amazing, some you have to ask -" is this really a tulip flower?". The display is spectacular, the colors stunning with the delicate pale pink and white blossoms of flowering trees a foil for the dazzling beauty of the tulip flower. There are many a tulip flower specially named after famous people, such as Hollands own 'Andre Reu'. Many names also reflect the dazzling color of the tulip flower like 'Red Hot Chilli Peppers'.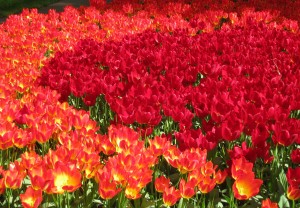 Keukenhof at Lisse presents a delightful walk through a predominantly tulip garden, but many other flower beds include white and yellow daffodils and purple hyacinths adding to the color mix. A  special pavilion displays beautiful orchids, another, the Juliana Pavilion where the Hat Awards are held annually with a different hat theme every year.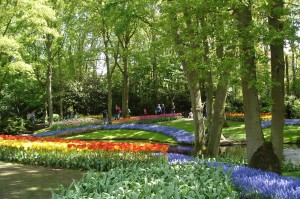 Dutch windmill
In the grounds of the flower garden adding to the attractions in Keukenhof, sits an old Dutch polder draining mill built in 1892; presented to Keukenhop 52 years ago by the "Holland America Line". Enjoy a great view of the tulips and flowers from the deck of the old mill, as well as a close up of a Polder windmill.  Keep and eye out for the carillon of bronze bells and the swan sculpture "bums up" – no – no – I don't know what they call the sculptures. I had to look twice when I first spotted them, they are so quaint and cute, definitely different, but belonging in these environs.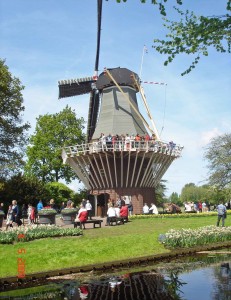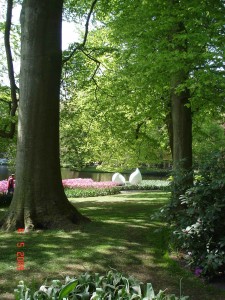 Food Court
There is a very busy food court with an old "Fairground Organ" playing in the background.You can also bring a packed lunch. Found a beaut little stall serving  fresh waffles with maple syrup and fresh cream, yummy, and great coffee!!  All seems to go together in this beautiful flower garden.
Children will love this picturesque flower garden, a fairyland of flowers with all the added attractions, not forgetting the animal paddock. A menagerie of creatures, including  goats with cute and cuddly  young kids, a not so friendly turkey gobbler, some very pretty chooks and colored ducks.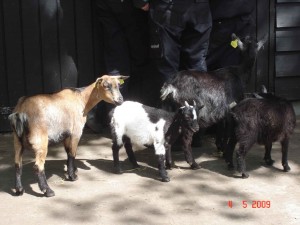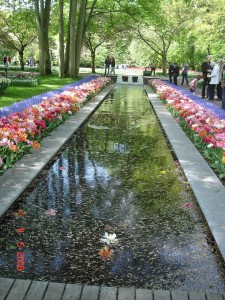 Keukenhof Flower Garden at Lisse open every day  from 23 March to 16 May between the hours of  08:00 to 19:30.
Transport by car
Keukenhof  located between Amsterdam and The Hague  is easily accessible via motorways A4 (exit Nieuw-Vennep) and A44 (exit 3, Lisse), then just follow the 'Keukenhof' signs
From Heiloo to Keukenhof by car is  44 min (53.0 km) via A9 and Drie Merenweg/N205.
Public Transport
Keukenhof offers combi tickets that give access to the park and use of public transport between Amsterdam,Schiphol or Leiden and Keukenhof. For details Route Planner Keukenhof.
---
Related Posts: