'Marsh of Gold'  paradise for an Artisan
Gold is symbolic of the region. The name Kanazawa means ' marsh of gold' in Japanese. Believed to have originated from a legend about  a peasant, Imohori Togoro who discovered gold dust as he was washing potatoes in a local marsh. Gold is found in Kanazawa and Ishikawa.  This sacred well is in the grounds of the Kanazawa Shinto Shrine near Kenroku-en Gardens and believed to be where the gold was first found by Imohori Togora.
 Invitations to Artisans
The Maeda family invited many an artisan from Kyoto and Tokyo to  work in Kanazawa with gold leaf. The Artisans of the Edo period and of today, must look on Kanazawa as a paradise to be able to work so freely with  gold  leaf decoration. Paradise indeed for an artisan.
Gold leaf production in Kanazawa
Gold leaf  is an important asset in the city's cultural crafts. Kanazawa produces 99% of Japan's gold leaf  as well as 100% of domestic silver and platinum. Collectively the three precious metals are known as Kanazawa-Haku. Gold leaf and gold dust used by an artisan for decorating cultural work. ; to decorate food and drink; 'gold leaf" tea considered good for health and vitality by the Japanese and to give a sense of luxury. 
Kashoku -Maki-e –  Lacquerware decorated with gold dust.
One of many traditional skills in Kanazawa; an artisan who specializes in the use of gold dust  to decorate high quality lacquer-ware.  This is known as Kashoku (maki-e). After the first lacquering, the lacquer ware item is given another coat and  sprinkled with gold dust (silver may also be used), followed by another coat of lacquer and then burnished; a highly prized item in Kanazawa.  Vessels, ornaments, temples,shrines and Buddhist altars may all be  decorated in gold leaf  by the artisans of Kanazawa. The gold leaf produced in Kanazawa covers the Golden Pavilion in Kyoto. 

Komei Yasue, a famous gold leaf artisan
The Kanazawa Yasue Gold Leaf Museum is in the Higashi Chaya District not far from the city center, here you can see the manufacturing process of gold leaf. Gold beating tools and handcrafted articles collected by Komei Yasue, a famous gold leaf artisan, are on  display  as well as many exhibits including a Kanazawa Buddhist altar,Kaga lacquerware and Kaga incrustation work from earlier times.
The Museum is open from 9am – 5pm. Admission: Adults 300 yen.  Aged Pensioners: 200 yen.
The Gold  Leaf Powder Room
This was a treat, the  walls of the toilet and washroom covered in gold leaf! It looks incredible. In the showroom we enjoyed 'gold leaf' tea. Try as I might I didn't get to swallow any of the gold leaf (much-needed for my health and vitality of course). The gold leaf  kept sinking to the bottom of the cup. Once I had drained the tea, very delicately with a fingertip I tried to pry a piece  from the bottom of the cup. Impossible, it disappears!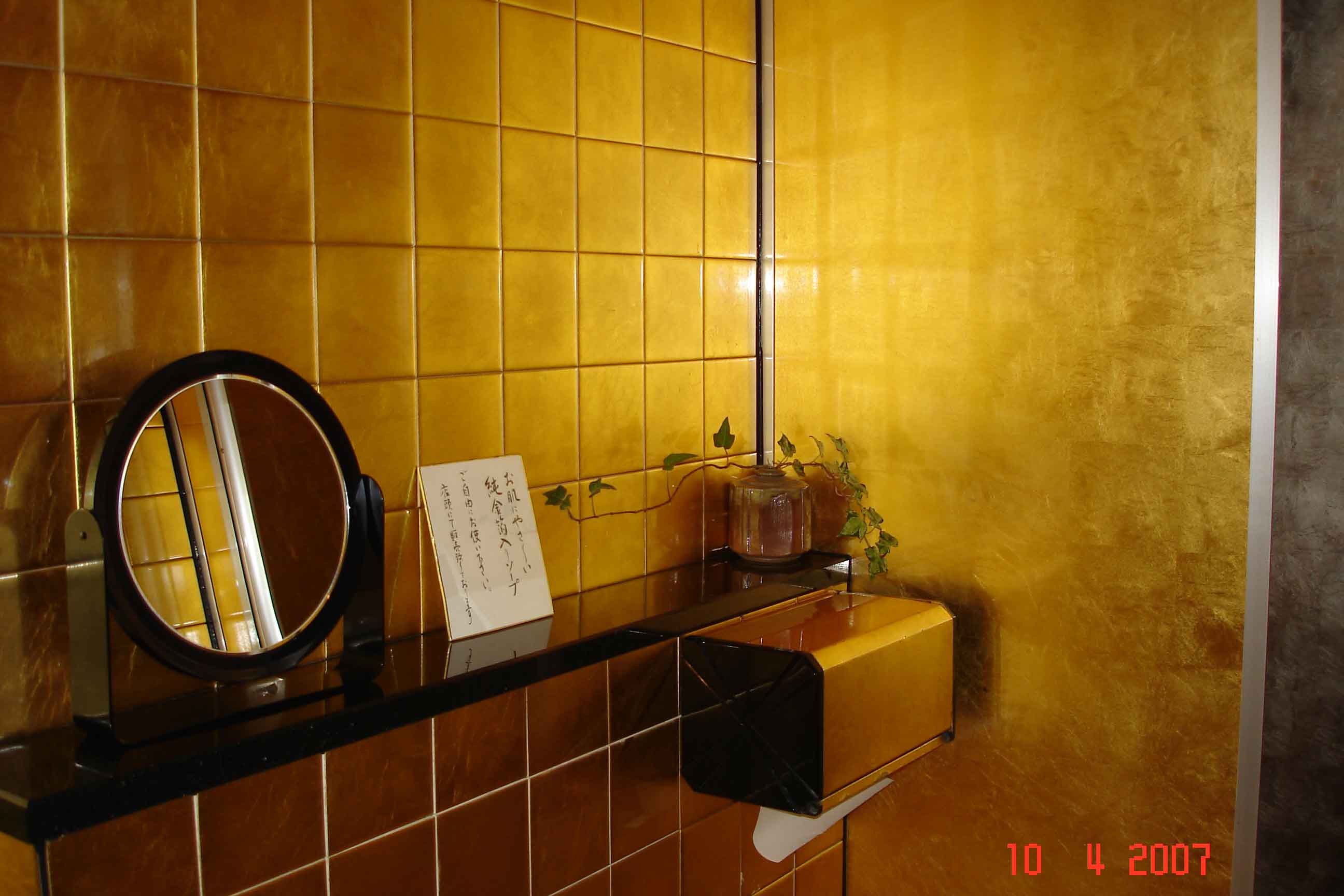 Skill of the artisan
The showroom itself had a wonderful display of artistic items and jewelry decorated in gold leaf, expensive, but exotic. My sister purchased a beautiful fan in the gold leaf, a prized possession. A bit disappointed I couldn't see the gold leaf applied, but when we arrived the gold leaf artisan had gone for lunch, and we didn't have time to wait  their return, as  we had a train to catch.
This was the end of our stay in Kanazawa, a fascinating visit, from the 'marsh of gold' to the ladies toilet and washroom tiled with gold leaf. Beautiful postcards highlighted with gold leaf as well.  Indeed a  paradise of gold?
We said a sad farewell to our guide who was an extremely lovely lady, as she saw us off on the train for Kyoto. The last three days we were living out of an overnight bag, our luggage sent on ahead from Hakone to Kyoto.
Couldn't help but admire how elegant these Japanese ladies look in their traditional kimonos. They were attending a conference at the ANA Kanazawa hotel .
Tonight we arrive in Kyoto where a new guide will meet us at the train and take us to our hotel.
Tomorrow the sights of Kyoto. Looking forward to the Palace and Golden Pavilion…. 
---
Related Posts: