Romantic Road Tour
Heading into Munich on our tour of the romantic road, first stop the magnificent Nymphenburg Palace. The fairytale and extravaganza castles of King Ludwig II, size wise pale in comparison to Nymphenburg palace – it is enormous.
Nymphenburg palace is a baroque palace in Munich, Bavaria, the summer residence of the former rulers of the House of Wittelsbach (1180-1918).
Nymphenburg Palace commissioned as a Summer Residence by the Bavarian Elector Ferdinand Maria and his wife, Henriette Adelaide of Savoy, after the birth in 1662 of their long-awaited heir to the throne Maximilian II Emanual.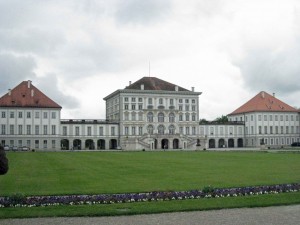 Palace construction
Construction of the palace began in 1664 to the plans of north Italian architect Agostine, on open countryside to the west of Munich city. The central pavilion completed in 1675. Major extensions carried out by Max Emanuel, heir to Bavaria in 1701 with an addition of two pavilions built on each side of the central pavilion, linked by galleries. Further additions and alteration to the palace took place during the years 1716,1795 and 1826. Five generation of Wittelsbach rulers involved in the construction of this enormous palace.
Highlights of the palace tour is the magnificent Stone Hall which occupies over three floors of the central pavilion, has a wonderful ceiling fresco of Helios (Greek God of the sun) in his chariot, with other gods.
The ceiling frescoes are by Johann Baptist Zimmermann and F. Zimmermann, brothers famous for their architecture, stucco and fresco paintings in the Baroque period (17-18th centuries). On our romantic road tour we saw examples of their work  in the Ettal Abbey and Beautiful Roccoco Wieskirsch.
The Queen's bedroom, also King Ludwig II's birth chamber, the walls lined with a  green silk wall covering and matching furniture. Bedrooms in Nymphenburg Palace are very modest compared to King Ludwig's lavish and extravagant style in Newswanstein Castle and Linderhof Palace. 
The Anti-chamber – hung with beautiful baroque tapestries from Brussels. In particular Diana the goddess of hunting with her retinue.
The Blue Salon –  walls lined with a blue silk wall covering, chairs covered to match,and crystal chandeliers. A very elegant room. Worth a second look is an intriguing round table in the middle of the room with a veneer of exotic woods and bronze in the form of pharaoh's heads. There is a lot more to see inside the palace. The audio guide is a must, it makes the tour so much more interesting.
The South Wing of the Palace, once the royal stables, is now the Carriage Museum and houses a fantastic collection of coaches including the magnificent carriages and sleighs of King Ludwig II.
If you have time take a stroll around the wonderful palace gardens, enjoy the magnificent expanse of lawns, flower beds, fountains and white swans.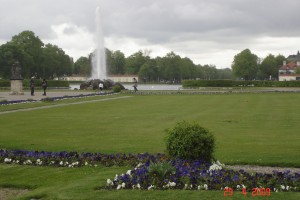 Next – sights of Munich City on the Romantic road…
---
Related Posts: