Scrapbook design pages from my trip to Japan 2007
This page consists of a selection of scrapbook design pages taken from my trip to Japan in 2007. The tourist industry in Japan is well regulated and I found souvenirs of a good quality which were reasonable and comparable in  price throughout Japan. Along the way I found some very interesting small packs of Japanese fabrics in traditional designs with complimentary paper, also interesting stickers, some featuring origami designs (cranes) and kimono ladies.  There was also an enormous amount of free good quality literature available in all areas we visited, which I have made  full use of in my scrapbook design pages.
This page is purely from literature I collected in Japan on the Kabuki Theater. It has scenes from different plays, the actors with their faces made up for different roles, as well as without their make-up. I'm still guessing who's who, as all the roles for both male and female  in Kabuki Theater are played by men?
The page on Mt Fuji is on black handmade  paper. When you reach the Fifth station on Mt Fuji, the Fuji Visitor Center has this lovely souvenir  sheet which you can place a  red stamp on with the date of your visit. The other water color pictures of Mt Fuji were  from and art exhibition brochure.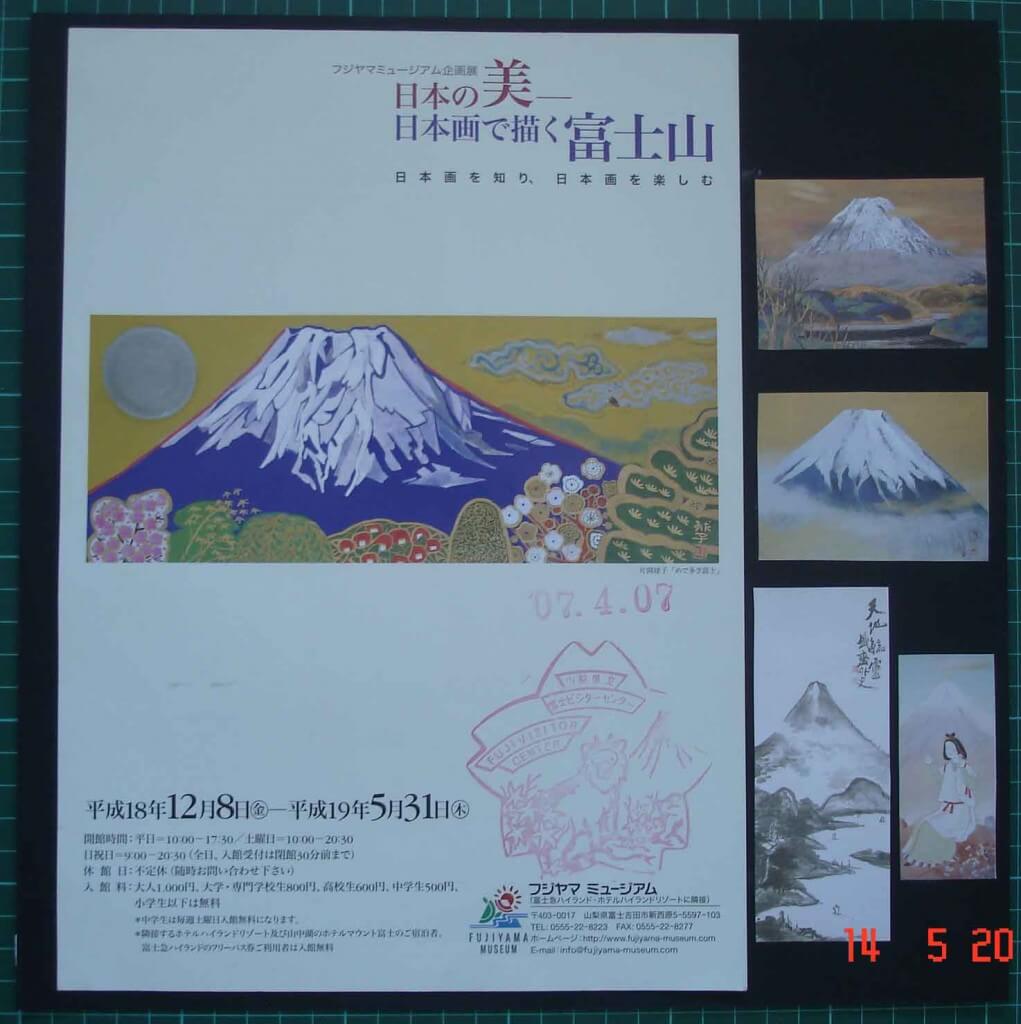 Handmade Scrapbook Paper
In 2007 I was still using the colored hand made paper as well as other scrapbook paper, whichever I thought appropriate at the time.  I have used colored mat/s behind the photos to highlight the subject matter.
A note on the handmade paper. It has a lovely soft textured surface which I really like, however I have found the adhesive  stickers didn't always hold well, nor the glued titles etc, because of the soft texture of the paper. The edges of the paper are also very fragile and need care when handling. The use of the double sided tape is more effective  on the textured  surface to adhere mats and photos.
Journaling ideas for Scrapbook Design Pages

When I started scrapbooking my notes were all hand written with a journaling pen, however, as I kept 'stuffing up' I decided to do most of my journaling on the computer using different font types. You can also use the 'spell check'.  My favorite font at the moment is 'pristina' usually in 14-16, and in bold (above photo). I like this font as it is a graceful style and more like handwriting. (click to enlarge the photo and zoom in on each area).
On the computer you are able to place a black or colored border to outline your notes or titles. There are various styles of borders and thicknesses you can use. You can also use a colored piece of scrapbook paper behind the border title to highlight the title and compliment your layout.
Different computer fonts for different  scrapbook layouts
Different fonts suit different layouts. This is an area where you need to keep an open mind as to what suits your scrapbooking design best. It is also a very economical way to do page titles rather than using stickers all the time. Unfortunately with alphabetical stickers you always end up with so many you can't use, because there are no vowels (aeiou) left to suit. However if you can write or print nicely (or do calligraphy), you can use up the remaining stickers by handwriting or printing the vowels between the stickers you have left.
Travel Paper Packs and Travel Scrapbook Albums
This paragraph contains a selection of attractive albums, paper stacks, Scrapbooking Kits all pertaining to travel, which you may be interested in viewing. Speaking of alphabetical stickers, which we all like to use on our scrapbook pages at sometime, this pack from EK Success of 840 stickers
would appear to be a very  economical purchase.
I think this travel memory album
has a lot of appeal? There are a few new designs in travel albums
and papers
to choose from  at the present time. There didn't seem a great deal available when I came back from Japan, 2007, but in the last two years I have noticed kits for travel scrapbooking
is being catered for to a much greater degree, as well as paper stacks, road trip packs
and embellishments, which is great to see.  Have others noticed this trend?
---
Related Posts: