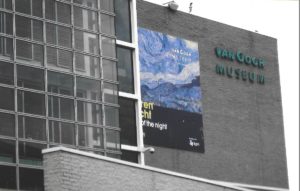 Back to Amsterdam to explore more territory, the famous art galleries, museums and Red Light District Amsterdam. First stop Van Gogh Museum. At the time there was a special exhibition on "Van Gogh and the colours of the night" – the first exhibition devoted to Van Gogh's representations of the evening and night. It was incredible to see some of his most famous works first hand including, The starry night, Sunflowers and The Potato Eaters. Audio visual tour is great. Awesome opportunity not only to see his most famous pieces but so much of his early work and history! Guided tours are also available.
Again a good idea to buy your tickets on-line before you go, avoids queueing. Do investigate the discounts offered by the Amsterdam Holland Pass, Museum Card, and Amsterdam City Card for yourself.  Museum entry is around €18 for most.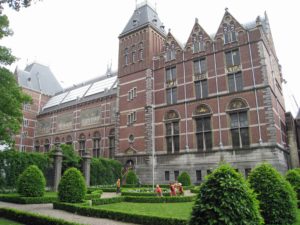 Rijksmuseum Galleries
The Rijksmuseum, holds the magnificent Dutch National Art collection. Finding myself in front of the works of such a revered artist as Rembrandt, quite took my breath away, a wonderful opportunity to study his famous works of art first hand. Other galleries at the Rijksmuseum hold the work of famous Dutch artists like Jan Steen and Johannes Vermeer, their art depicts heartwarming scenes relating to everyday living, and special moments in people's lives as they go about their daily chores in medieval times. Beautiful marquetry, glassware, stunning silverware from 16-17th centuries, beautifully detailed and decorative, as well as silver gilded items all on view. Sculpted bronze by Adriaen de Vries very lifelike and deserves a closer look. Ever wanted a Doll's House? The Doll's house of Petronella Oortman is probably the ultimate, world-famous in it time is pretty spectacular. Petronella, wife of a merchant and wealthy in her own right spared no expense on her hobby. The Doll's House is fully furnished, each item scaled exactly to size and made from the same material as the full-sized objects. The exterior of the cabinet is particular beautiful, exquisitely crafted with veneered tortoiseshell and inlaid with pewter.  The Doll's house has three floors, holds about 700 objects; it gives a unique view of the home of a wealthy family in the late 17th century.
Spent about four hours in the Rijksmuseum, many wonderful things to see; needed more time to absorb the art and culture; so impressed that I have actually seen the work of Rembrandt and Vermeer. Rijksmuseum has pretty lawns and gardens to take  a stroll around, or a welcome coffee and snack at their cafe if you need a break. Refresh, go back to look through more galleries of art and history! The gardens are free to enjoy at any time, as is the gift shop. The Masterpieces Guide is hard to go past as a memento of momentous moments strolling through the galleries  viewing the work of such great artists  as Rembrandt and Vermeer.
The Rijksmuseum is open every day of the year from 9:00 to 17:00 (includes Christmas day,Boxing day and New Year's day).
Standard admission fee for the Rijkmuseum is 17.50 euros. 
The Rijksmuseum gardens and  Rijks Shop(souvenirs) and Café open to visitors without a ticket from 9:00 to 18:00 daily.
Oude Zijde – Old side
Nothing like a change in artistic direction as we then headed back to Dam Square and the Oude Zijde (old side) of Amsterdam to the Red Light district. It was an interesting walk through this area. We walked around the Oude Kerk, a huge old church dating from 13th century. The present gothic structure dates from 14th century, once a single aisle church, as it expanded it became a place of refuge for the poor, eventually it became the basilica we see today.   Today the Oude Kerk, a fascinating piece of architecture, is surrounded by cafe',shops and houses. It remains a peaceful haven from the noise and bustle of the city in the heart of the Red Light District in Amsterdam. Alas not open this day.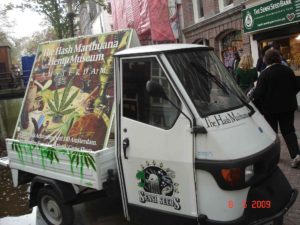 Red Light District Amsterdam
In this area, the oulde side of Amsterdam, there are many interesting shops and galleries  of a special type, we found the names pretty amusing such as 'Red light' Bar and Coffee shop'; Smart Zone-Magic Mushrooms;Hemp museum, Cannabis College and Sex Palace. Then of course the Red Light District Amsterdam and the ladies standing in their windows, all shapes, sizes, and nationalities to suit all tastes.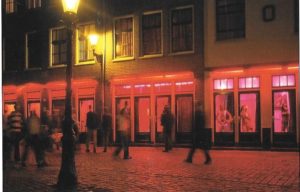 You are not allowed to take photo's of the ladies, better to settle for a postcard. Prostitution is now a legalised profession in the Netherlands and those working in the profession have access to medical care and better working conditions under government regulations. The red light district dates back to 13th century when Holland became a busy sea port. Tours of the Red Light District are available.
Throughout the city and Holland, you will notice some buildings are built with a deliberate tilt, this is to allow goods and furniture to be hauled up to the attics without crashing against the windows. I do wonder though, some are at a very precarious tilt? It looks quite odd to see the buildings on such a lean, they seem to be supporting one another?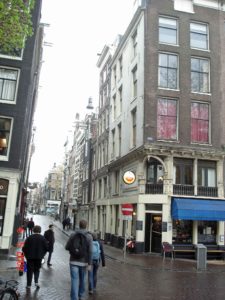 Heading back to Central Railway station, interesting views of traditional architecture along the canals including spout gabled buildings which were probably warehouses in years gone by.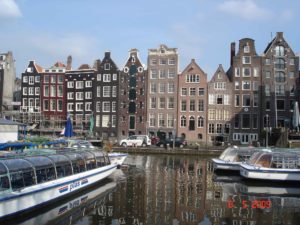 Central railway is a magnificent old building; the transport hub in Amsterdam for all forms of transport,trains,buses,trams and canal boats. The main Amsterdam Tourist Office is based at Central Railway Station too. Some 250,000 thousand people, including tourists use the train service daily.

Visitors can take  trams 2 or 5 from Central Station to the Rijksmuseum stop or tram 5 from Zuid Station. The Rijksmuseum is located in Museum Square with many other attractions such as the Royal Palace, Madame Tussaud's,Van Gogh's Museum all in close vicinity and walking distance.
---
Related Posts: