Open Air Museum of Zaanse Schans
Zaanse Schans is a small picturesque village of historical  green wooden houses and windmills once scattered across the Zannstreek region. The houses and windmills are authentic and all still in use. The houses built on  canals and virtually surrounded by water. Each house has its own little bridge over the canal, quite picturesque with weeping willows, shrubs and greenery; one garden has a cute miniature maze.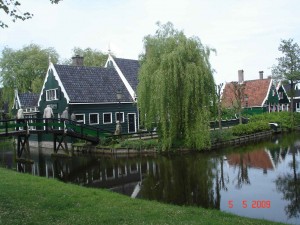 There is a fascinating clock museum; an inscription on the outside reads "Seven centuries of time keeping in the Netherlands", very antique. If clocks are your passion worth a visit. There are many other buildings in traditional architecture of the period to explore whilst at Zaanse Schans.
Zaanse Schans has its own Cheese Factory (free admission) where you can see the entire process of cheese being made and taste typical Dutch farmer cheeses.  Couldn't resist the delicious rounds and took some home to  enjoy with our wine this evening. I think I could live on wine, cheese and pancakes(not necessarily in that order).
Next, the Dutch clog factory has an amazing variety of plain and colourful clogs on display together with the history of clog making. Clogs are made on site, admission to the clog factory is free. Dutch women of yesteryear wore a particular Dutch clog on Sundays painted with a special rose decoration.They were known as a "Marken clog".
During our stay in Holland we visited friends who were working in their garden at the time of our visit wearing a typical wooden Dutch clog. Couldn't help thinking what a great design the wooden clog is for gardening in any country. Theirs were very weather worn and looked such a practical idea for gardening, especially in the wet.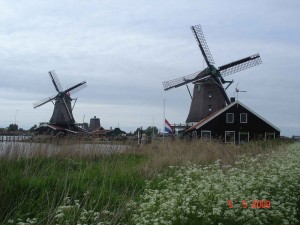 Colour Windmill at Zaanse Schans
Then a closer look at a colour windmill. It was intriguing to watch a couple of men at one windmill manually turning the sails into the wind. It looked quite challenging. The colour windmill at Zaanse Schans harness the power of the wind to grind a variety of natural dyes and pigments with the mill stone. Yellow and red ochre imported from France and other places are ground to a fine powder in a special room for use in oil and water-color paints. Some windmills grind flour, spices, oils, and timber for paper making.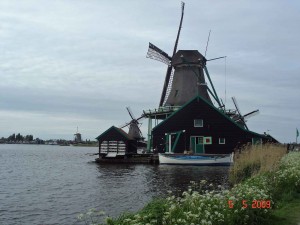 For a small fee of €4 for adults and €2 for children 5-12 years,  you can actually go inside a windmill, enjoy the view from the platform, visit the loft and climb to the cap of the windmill. Nice souvenirs  produced at/by the windmills are available at the Mill shop. A fascinating visit and insight.
Plenty of food and drink choices available at Zaanse Schans with snack foods and restaurants. My pick the Pancake restaurant. Developed a decided taste for pancakes whilst in Holland.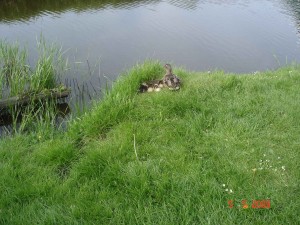 As we were leaving Zaanse Schans we looked across the fields for a last look at the old windmills and noticed a pretty little Dutch girl in traditional costume bringing goats into a fenced paddock. Earlier, walking along the banks of the canal to look at each windmill, we had to watch our feet as  fluffy baby ducks scrambled in the grass to cluster around their mother at our approaching footsteps.  A classical and very pretty Dutch scene. Zaanse Schans is a delightful experience.
Zaanse Schans is open 10.00 to 17.00 hours from April to November.
Free entry into Zaanse Schans. You are able to wander around and enjoy exploring this historic village to your heart's content.  Some museums,workshops and windmills within Zaanse Schans charge an  entrance fee.
Travel 
Catch a train from Amsterdam's Central Station to Koog-Zaandijk  the closest Station to  Zaanse Schans; takes about 15 minutes. Then head for the windmills, an easy 10-minute walk from the station.
By car from Keukenhof to the Ferry  at Zaanse Schans takes about 36 mins (48.9 km) via A5.
---
Related Posts: