Water flow after the rain
The water flow down the main streets of Siem Reap  made for slow bus  travel so as to not create a wash. The locals dealing with the water flow in their own stoic fashion after the heavy rain of the last few days. Everyone just trying to stay in business and make a living.
The in-flow of water from catchment areas after the rain brought the river very close to spilling over the  banks and bridges. Below locals sit on the river bank watching the water rise (click to enlarge). After the rain, a flow of raging water washed away the bridge crossing at a local school; no school today!
I can't remember where this 'interesting little bridge' came into the picture; not so nimble or as light as the Khmer people, it was quiet funny to see our busload gingerly making their way across the log bridge used regularly by locals.
Angkor National Museum
We passed the Angkor  National Museum built in the style of Angkor Wat, didn't get to visit  which is rather a pity. There are some 1,300 pieces of artifact exhibited in the Museum, very ancient and beautiful pieces. I believe our schedule was just too full. It rained of a night but days were fine, ground dried out fairly quickly except for low areas. A full day of rain and we would have made it to the Museum, but miss the temples? Has anyone been through this Museum and what did you think of it? From the website it looks pretty amazing!
 Lunch venue
Our lunch venue was another interesting restaurant. Two story timber structure, very open as you can see, cool and relaxing, a view to the leafy green shrubbery outside.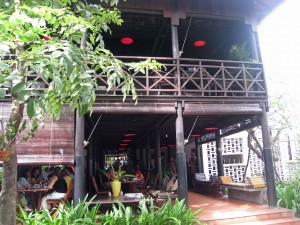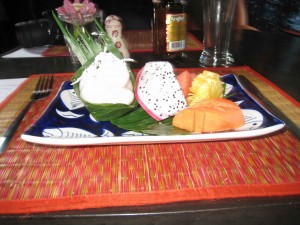 The freshness and color of the locally grown fruit always a welcome addition to a light lunch, papaya, dragon fruit, pineapple and watermelon. Very well fed and looked after on our small group tours.
Our tour group scheduled to visit Angkor Wat today, but because of the water lying around re-scheduled for tomorrow, so hope there is no more rain tonight.
Instead – the  famous mythical temple of Ta Prohm…..
---
Related Posts: