Scrapbook  and designs – Highlights Tokyo Japan

The highlight for me in Tokyo Japan was our visit to the Asakusa Kannon Temple and the Kabuki theater in Ginza. There was no mistaking the huge red and black lantern at the entrance to the Asakusa Kannon Temple which I have seen so often in photographs. The red black and grey lantern represents thunder and lighting, and is hung in the entry gate to the temple complex.
The scrapbooking design layout it is on white scrapbook paper with handmade paper underlay. I have used computer journaling with black borders; main subjects are  highlighted with black and gold starform outline stickers.
Scrapbooking Design pages –  The Kabuki Theater

The Kabuki Theater was a theatrical experience I had to have, having heard and read so much about it I was enthralled to sit, watch, listen, and soak up the experience. They have now demolished this wonderful old traditional theater, which is such a shame.
Items used for this scrapbooking design layout, white scrapbook paper, matted with purple and red handmade paper.  Kabuki Program from the Kabuki Theater . Portraits of Kabuki actors from glossy brochures  provided at the theater.(Just  click on these images and zoom in for a closer look.)
Scrapbooking and design solutions to keep programs or maps from your trip
For the Kabuki program I have cut a piece of scrapbook paper slightly wider and longer than the program, then with the same color paper, made a pocket at the bottom. I have decorated the outside of the pocket with portraits of Kabuki actors. The program  slots into the pocket, and can be removed easily if you wish to look at it at any time.
Scrapbooking and Design – hidden folders
In the first and second photo you can see where I have placed the notes in a hidden folder (1). The extra weight of the pictures on the outside of the folder keeps it flat against the page when in your  scrapbook album. Just flip open to read the notes (2) when required. This extension flap idea is also very handy when you have run out of space for notes.
Scrapbooking and Scrapbook design page for Tokyo Tower Japan


Above: Scrapbook design double page layout, mauve handmade paper with yellow underlay, Tokyo city lights sticker decoration, computer journaling.
We enjoyed our visit to Tokyo Tower with  great views across to Mt Fuji. It was a perfect day so we were lucky. We finished the day with a visit to the Twin Towers in Shinjuku and dined at a restaurant in the south tower of the Metropolitan Government building (Twin Towers).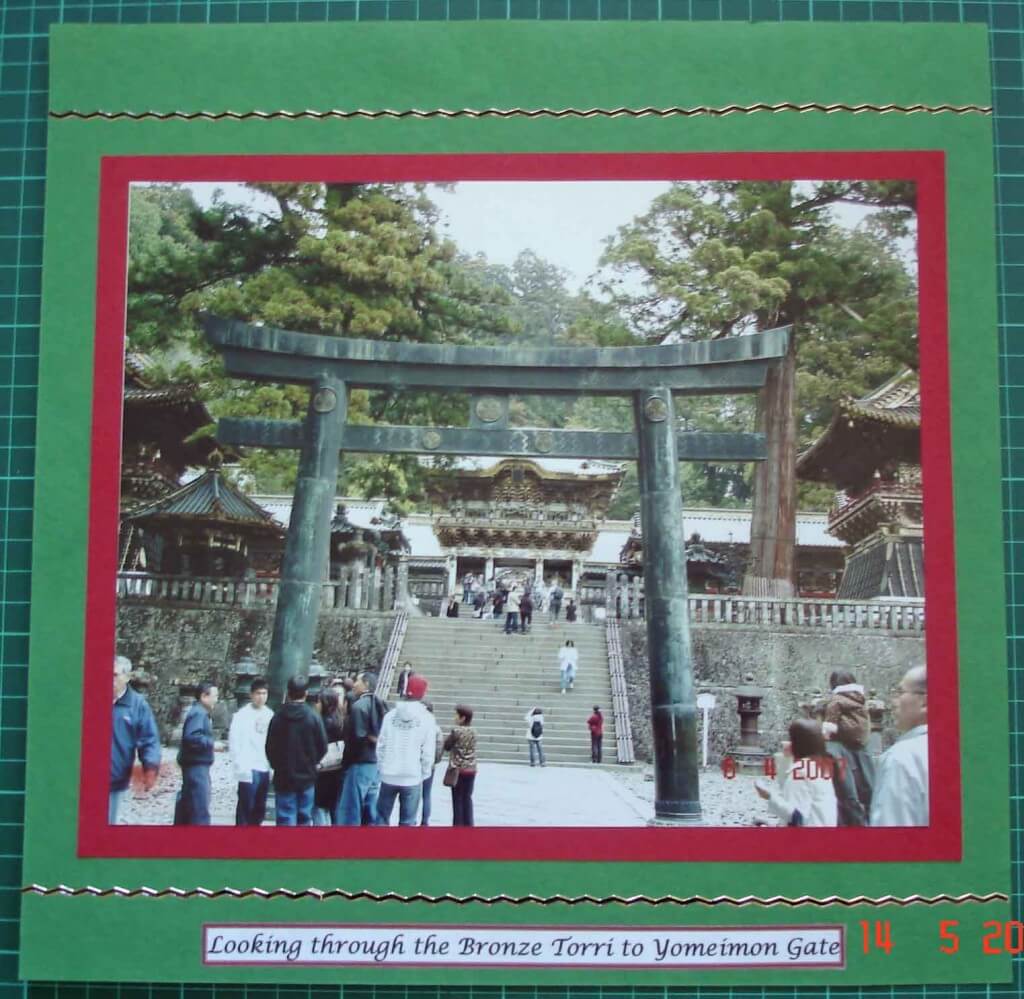 The above scrapbook design page is about our day tour to Toshugu Shrine which was awesome. No photos do justice to this magnificent temple complex. It is so full of history, with each temple a purpose built construction combining aesthetics and beauty, revered by the Japanese Buddhist culture. The Yomeimon Gate is renowned for its beauty and detailed sculptural decorations.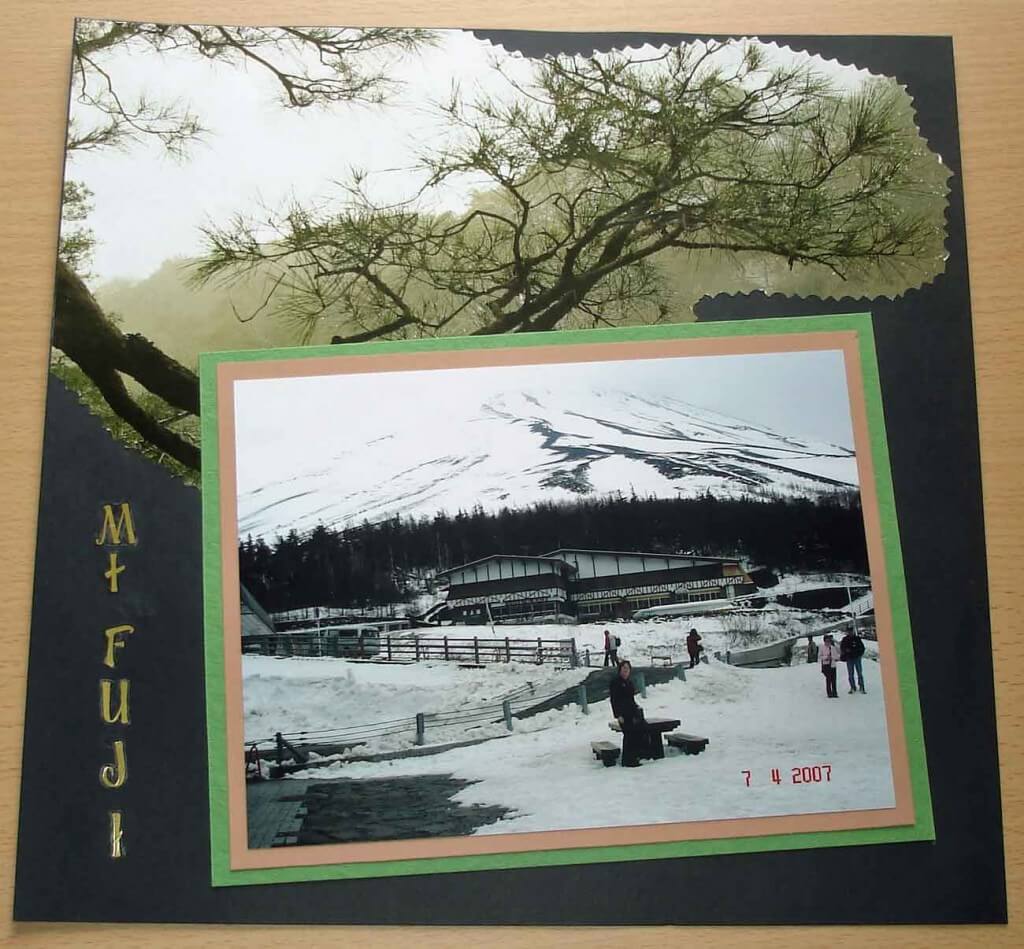 The sacred mountain of Mt Fuji, the 'Shy Mountain'
A day trip to visit the sacred mountain of  'Mt Fuji' was a special journey. Mt Fuji is also known as  the 'Shy Mountain'  because you can very rarely see the top, as it is always shrouded in cloud or mist.This day the 'Shy Mountain'  lived up to its reputation.
Do wear something bright when your going to the snow. Yep! that's me in black. It was a dull day, cold and bleak, the forest looked black, the mountain was white with black?  Oh well!  Since it was a once in a lifetime trip it would have been nice to stand out against the snow in a bright blue or red jacket.
For both these scrapbook design pages I have used black handmade paper, a brown underlay, with snowflake and pine tree embellishments. I try to do a color theme with related subjects. I was quite excited when there was deep snow along the verges of the road, as we climbed higher to view Mt Fuji. Living in tropical Queensland I have only seen snow once or twice before, so I enjoyed stomping around in the thick snow on the sacred mountain.
Attractive Scrapbook design papers and borders for your scrapbooking
I have just came across some attractive products, the colors are so lovely and vibrant in these papers
and borders
and caught my eye. They are the colors of India which I visited in 2009, and haven't actually looked at my photos yet. However I am accumulating a lot of ideas, papers and decorations
in advance. Sometimes you need to buy things when you see them and these items are so very attractive.
If you have any comments or would like to add a page of your scrapbooking images to my blog post, as a guest feature, please email me or leave a comment.  I'd love to hear from you! Thanks. Happy Scrappin!
---
Related Posts: